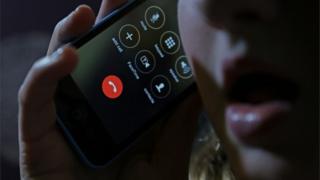 Mobile phone companies should allow customers to roam between networks in areas of the UK where they struggle to get reception, a group of MPs has said.
The British Infrastructure Group said foreign visitors get better coverage, as they are not tied to any provider, so can use the strongest signal.
The report said 17 million customers had poor reception at home and it named 525 areas with non-existent coverage.
Phone companies insist they are working hard to make their coverage better.
The cross-party group of about 90 backbench MPs called on ministers to make sweeping changes, including changing the law to allow domestic roaming in the UK, making it cheaper for customers to switch provider and identifying the worst phone networks.
The report said mobile phone coverage in the UK had not improved significantly since 2014 when the government agreed a £5bn investment deal with the network operators.
The agreement is expected to fall short of its target of providing coverage to 90% of the UK's geographical area by the end of 2017.
Group chairman Grant Shapps said: "It is unacceptable that areas in Britain continue to have such poor mobile connectivity, and that overseas visitors can expect better mobile coverage than Britons stuck with a single provider.
"The time for excuses from the mobile sector is over. The government must make a better call for Britain and bring national mobile coverage policy into the 21st Century."
The report also stated that customers were at risk of being hit with large exit fees if they decide to terminate their contract, even if it was due to poor quality service.
The government said a bill going through Parliament would give regulator Ofcom the power to fine firms that do not deliver improvements.