Apple's expected to announce the first new MacBook Pros in over a year. Follow us for live updates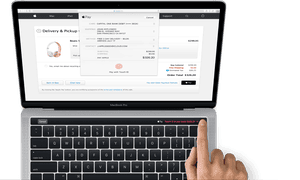 The new MacBook Pro, leaked in the latest version of macOS. Photograph: Apple
Thursday 27 October 2016 12.43 EDT
Live feed
Show
What to expect
Apple's event begins at 6pm UK time (10am Pacific/1pm Eastern/4am AEDT), and thanks to some fairly wide-ranging leaks, we have a good idea of what to expect.
Leading the event is expected to be an update to its MacBook Pro range of laptops, which has not seen any changes whatsoever for more than 500 days. After Apple included a few tell-tale images in the latest version of macOS, we know that those new computers are almost certainly going to feature a slender touchscreen replacing the function keys, as well as a fingerprint sensor to enable touchID on the devices.
They will also like have a thinner and lighter body than the existing range of MacBook Pros, and may potentially be the second computers from the company to abandon USB-A, the traditional connection standard, in favour of the slimmer, reversible USB-C.
Updates to the rest of the Mac range are less clear, but expect some fiddling with the ageing MacBook Air line: the 11-inch model is not long for this earth, having been superseded by 2015's introduction of the new MacBook. The iMac is also due an update, but reportedly won't be getting one this year.
The Apple TV is also expected to get a software update, which will bring a "next generation TV guide", according to Recode's Peter Kafka, allowing users to find and watch video content from all their apps in one central location. Well, almost all their apps: Kafka reports that Netflix is a holdout, despite the fact that the video streaming service was previously a launch partner of a similar feature, allowing users to use Siri to search for video content.
One last thing to expect: large price increases for those buying in GBP. With the collapse of the pound following Brexit looking permanent, companies have been raising prices, and Apple is no exception: at its September event, the company increased the cost of iPhones and iPads for Brits, and it looks likely that Macs will follow suit today.
Updated at 12.43pm EDT
Share