Fewer NFL Viewers Force TV Networks to Give Away Ads
Gerry Smith
and
Lucas Shaw
October 6, 2016 — 1:34 PM EDT October 6, 2016 — 3:13 PM EDT
NFL ratings fall 14 percent among 18-to-49-year old viewers

Presidential debate, weak matchups blamed for rating declines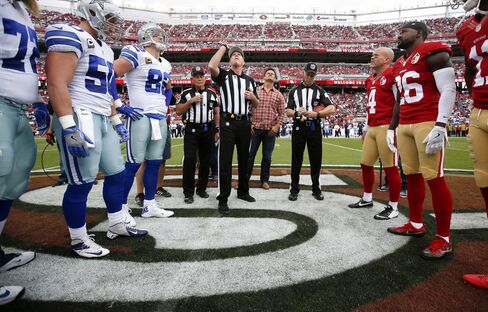 Captains of the San Francisco 49ers and the Dallas Cowboys stand at midfield for the coin flip prior to a game in Santa Clara, California, on Oct. 2, 2016
Photographer: Michael Zagaris/Getty Images
TV networks are giving away more commercial time this NFL season than a year ago to make up for one of the worst ratings declines in a decade, a rare sign of weakness for the biggest draw on television.
In September, as the presidential election diverted viewers to cable news outlets, viewership of the NFL's prime-time games dropped 14 percent from a year earlier among the coveted 18-to-49-year-old demographic, according to a Bloomberg Intelligence analysis of Nielsen data. Ratings for CBS's Thursday night games fell 15 percent, NBC's Sunday night games slid 12 percent and ESPN's "Monday Night Football" plunged 16 percent.
When TV networks sell commercials, they guarantee advertisers a certain number of viewers. If they don't fulfill their promises, they must offer free commercial time elsewhere to make up for it, potentially missing out on revenue from selling those ad spots instead.
So far this NFL season, TV networks have missed their estimates by about 20 percent, requiring them to offer advertisers what the industry calls "make-goods," according to one ad buyer who asked not to be identified discussing private information.
A larger-than-expected number of make-goods so far is stoking concern that the NFL may be in trouble. Last year, one buyer purchased 100 NFL ad spots and got six free commercials to make up for ratings that fell short of estimates. This year, that same buyer acquired 100 ad units and expects to get about 10 make-goods.
The decline in NFL viewership raises new questions about the invincibility of live sports at a time of great anxiety for the media industry, marked by a loss of subscribers to conventional cable and satellite services, falling broadcast-TV ratings and fierce competition from digital outlets. And National Football League games aren't alone. The Olympics on NBC and the U.S. Open tennis tournament on ESPN also drew fewer viewers than previous years.
Representatives from Comcast Corp.'s NBC, CBS Corp., Twenty-First Century Fox Inc., and Walt Disney Co.'s ESPN declined to comment on the ratings decline and offering make-goods.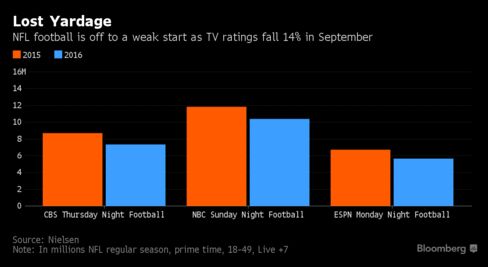 Media companies have spent $57 billion for the rights to air the NFL into the next decade because those games have historically drawn massive live audiences, so advertisers are willing to pay top dollar to broadcast their marketing messages during commercial breaks.
The price of a 30-second TV spot on NBC's "Sunday Night Football" costs about $674,000 on average, making it the most expensive commercial time on television, according to Ad Age. CBS's "Thursday Night Football" is the second-most expensive, fetching an average $523,000 for 30 seconds.
To be sure, the NFL is just a quarter of the way into its season. And professional football is still the most-watched programming on TV. The networks point out that they offer make-goods every year, and can do so without hurting their revenue. That's because NFL ad rates are so high, and there are so many games, that inventory rarely sells out, leaving a cushion of unsold commercial time to make it up to advertisers, one ad buyer said.
| Network | Deal Value | Per Year | Term | Program |
| --- | --- | --- | --- | --- |
| ESPN | $15.2B | $1.9B | 2014-21 | Monday Night Football |
| CBS | $9.6B | $1.09B | 2014-22 | AFC package |
| FOX | $9.7B | $1.08B | 2014-22 | NFC package |
| NBC | $8.6B | $0.96B | 2014-22 | Sunday Night Football |
| DirecTV | $12B | $1.5B | 2015-22 | NFL Sunday Ticket |
| Verizon | $1.0B | $0.25B | 2014-17 | Streaming |
| CBS, NBC | $0.45B | $0.225B | 2016-17 | Thursday Night Football |
| Twitter | $0.01B | $10M | 2016 | 10 games |
| Total | $55.6B | $7.0B | | |
There could also be a silver lining for the networks: The weak NFL ratings could inflate ad prices across the rest of the marketplace. When TV networks give away commercial time to advertisers, they could then reduce the supply of ads during other programming, making prices across the board go up.
Yet if the ratings slide continues through the season, TV networks could be forced to charge less for NFL ad rates next year -- and beyond. ESPN's contract with the NFL runs through 2021, while CBS, Fox and NBC have accords with the league through 2022. CBS and NBC also have a deal to split the broadcast rights for Thursday Night Football, which expires in 2017.
Reason for Decline
No one can point to a single reason why ratings for prime-time NFL games have fallen this season. TV networks blame weak match-ups, non-competitive games, the rise of online streaming and the presidential election.
Whatever the reason, not all live football games are feeling the same effects. Through five weeks, Disney's ABC Saturday night college football games are averaging 6.1 million viewers a game, 28 percent better than the next-best window on any other network and up 3 percent from the first five Saturday night broadcasts last season. One the whole, ratings for ESPN's college football games are flat.
Exclusive insights in your inbox, from our technology reporters around the world.
Get Fully Charged, from Bloomberg Technology.
Business
Your daily dose of the news that's moving markets around the world.
You will now receive the Business newsletter
Politics
The latest political news, analysis, charts, and dispatches from the campaign trail.
You will now receive the Politics newsletter
Markets
Your daily must-read for the most important news in markets.
You will now receive the Markets newsletter
Pursuits
Travel with us, drive with us, eat with us – around the world.
You will now receive the Pursuits newsletter
Game Plan
The school, work and life hacks you need to get ahead.
You will now receive the Game Plan newsletter
But college football hasn't had to compete with Donald Trump and Hillary Clinton, at least not head to head. ESPN's Sept. 26 "Monday Night Football" game between the New Orleans Saints and Atlanta Falcons aired at the same time as the first presidential debate, an event that drew a record-breaking 84 million viewers. By contrast, the Saints-Falcons match-up garnered the lowest viewership for Monday Night Football in at least 25 years, with about 8 million viewers. This Sunday, NBC's "Sunday Night Football" featuring the New York Giants and Green Bay Packers comes up against the second presidential debate, and many are expecting weak ratings.
Some advertisers and marketers say there may be too many football games being broadcast in too many places, diluting the overall audience. The NFL, for example, expanded Thursday Night Football broadcasts from eight to 10 games this year. Twitter's live stream to more than 2 million viewers may have eaten into ratings for "Thursday Night Football" on CBS, according to Bloomberg Intelligence.
It's still early in the NFL season, and viewership could pick up when match-ups improve and the election is over.
"The numbers are going to come back and we'll see an uptick as we go forward this season," said Andy Donchin, chief domestic investment officer at ad-buyer Amplify US. "The NFL is too popular."
Before it's here, it's on the Bloomberg Terminal.
LEARN MORE