I recently wrote an article talking about the concept of purchasing power and why the Bitcoin thesis is flawed. It now looks like the challenges I put forth are already playing out and starting to have an impact on Bitcoin. In this article, I will cover some of the recent developments and what this means for Bitcoin's future as well as financial instruments tied to it such as the Bitcoin Investment Trust (OTCQX:GBTC) and the proposed Bitcoin ETF (COIN).
Look Ma, no forks!
We start with the news a few days back that the proposed "SegWit2X" fork was called off. Proponents of the fork sent an email out saying they were cancelling the move because they realized that they had not built sufficient consensus among in the community and going forward with the fork at this time would be a setback to Bitcoin's growth. They didn't elaborate on what it means to have a "consensus" in the Bitcoin community. For that matter, what does this community comprise of? All individuals holding Bitcoin? Just the Bitcoin core developer community? The mining community? Or perhaps the largest holders of Bitcoin? Hold this thought for a moment, I will come back to it later.
Although we strongly believe in the need for a larger blocksize, there is something we believe is even more important: keeping the community together. Unfortunately, it is clear that we have not built sufficient consensus for a clean blocksize upgrade at this time. Continuing on the current path could divide the community and be a setback to Bitcoin's growth. This was never the goal of Segwit2x. - SegWit2X advocates
Now the price of BTC itself skyrocketed as soon as this news hit the wires. People seemed to be relieved that sanity had prevailed and the evil corporate takeover of Bitcoin had been averted. It didn't last long though and as I write this article on Sunday morning, Bitcoin is hovering just over $6000 after hitting lows close to $5500 a few hours back.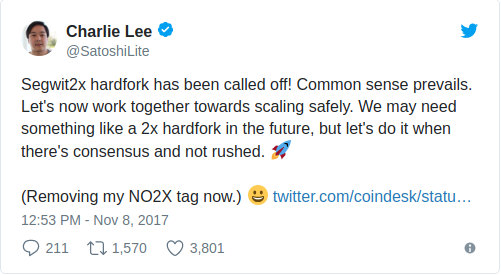 Source: Bitcoincharts.com
Meet Bitcoin Cash, the new

Bitcoin
Lets now go back to that idea of consensus in the Bitcoin community. In my previous article, I wrote about how the decentralization and lack of an authority in Bitcoin's implementation is it biggest weakness as a store of value. If Bitcoin were a virtual currency issued by a Sovereign State, the state would have the final say on any technological development or updates to the protocol. You would still retain your purchasing power because, well, the state said so.
Proponents of decentralization absolutely hate this idea. Well, they are now getting a chance to experience what the alternative looks like. Even though the SegWit2X fork was called off, it doesn't mean the proponents of the fork are happy about it. Some of them have just decided to move on to a different virtual currency that is more accommodating to their requirements - Bitcoin cash. Consider the below figures on the absolute and relative hashrates between Bitcoin and Bitcoin cash. For the first time ever in its history, Bitcoin cash has overtaken Bitcoin. Whether this is just temporary remains to be seen but if this trend continues, it will have a material impact to Bitcoin's long term viability.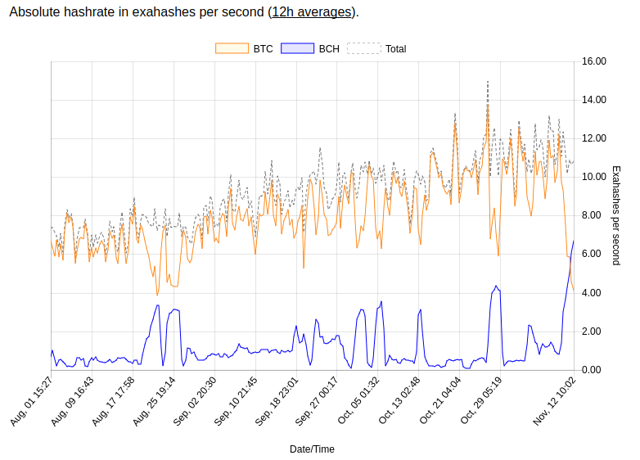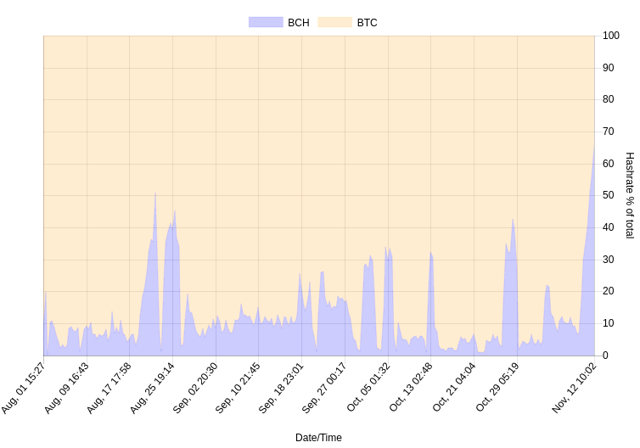 Source: Fork.lol
What this shows is that members of the mining community that were proponents of the fork are abandoning Bitcoin and moving on to Bitcoin cash. If you have been wondering what sort of havoc this has caused to the price of Bitcoin cash, consider the below chart.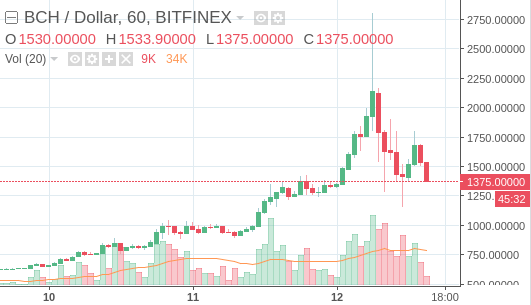 Now, if you were a holder of Bitcoin from before the Bitcoin cash fork on August 1st this year, you may be content that the recent losses in the value of Bitcoin are made up for by the appreciation in value of Bitcoin cash. However spare a though for all the new users who have joined the community recently. Hasn't the recent price appreciation really been driven by their interest in Bitcoin? How do you think they feel about the thought of Bitcoin cash (or any other alternative) replacing Bitcoin?
Tulips, Tulips everywhere - which one should I buy?
I was just reading some of the comments on my previous article and as I was writing this article, one in particular caught my eye.. Consider the question posed below by SA reader "ProfFinance". Why are so many people convinced no successor or competitive alternative to Bitcoin will arise over time? Why, indeed. Well ProfFinance, we may just be seeing this play out with Bitcoin vs. Bitcoin cash right now.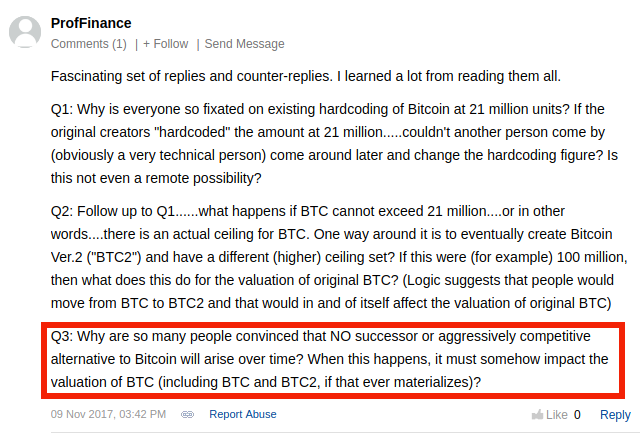 Now I know supporters of Bitcoin will get mad at me if I compare Bitcoins to tulips. But consider the following comment that SA reader "tcpwiz", who by all indications appears to be a proponent of Bitcoin to me, made on my previous article.
It boils down to what people TRUST.

As for a transactional currency, an Alternative coin or coins with ever improving technology will fill that space.

The question is: Trust.

Tulips or Bitcoins or Pounds, or Dollars or Euros or Gold, or Derivatives, or Insurance Annuities?

Which is the most Trustworthy that it will honestly keep your stored value?
- SA reader tcpwiz
He/she makes a very good point about trust. What is it that makes people trust something? In my previous article, I argued that for fiat currencies, it was the authority issuing the currency that gave people trust in the currency as a store of value or purchasing power. But what does it mean for a decentralized instrument like Bitcoin? Clearly over the past couple of days, a good number of Bitcoin miners have lost trust in Bitcoin and moved on to Bitcoin cash based on the charts I posted above. Whether most of the financial capital held in Bitcoin follows them remains to be seen but it could very well happen. Does it mean you have to ensure you are in the group with the majority to protect your purchasing power?
Anything is worth only as much as someone else is willing to pay for it. If everyone in the US today decided that perfect yellow tulips were worth $100,000 each, it would be worth that much. But consider what happens when more than 50% of the population suddenly decides perfect red tulips are worth $100,000 each and yellow tulips are just regular flowers. Does everyone eventually move on to red tulips now and what happens to the people stuck holding yellow tulips? The argument may sound silly but that is exactly what is happening in the current decentralized virtual currency market! People want to use the instrument that is most beneficial to them and satisfies their requirements and if you are not in the majority, you will lose out. How is this by any means an instrument that can be consider a reasonable store of value?
Disclosure: I/we have no positions in any stocks mentioned, and no plans to initiate any positions within the next 72 hours.
I wrote this article myself, and it expresses my own opinions. I am not receiving compensation for it (other than from Seeking Alpha). I have no business relationship with any company whose stock is mentioned in this article.
Additional disclosure: The Content provided in this article should be used for informational and educational purposes only and is not intended to provide tax, legal, insurance, investment, or financial advice, and the content is not intended to be a substitute for professional advice. Always seek the advice of a relevant professional with any questions about any financial, legal or other decision you are seeking to make. Any views expressed by Laxman Vembar are his own and do not necessarily reflect the view, opinions and positions of FundamentalSpeculation.IO. Finally, you should not rely solely on the information provided by the models on FundamentalSpeculation.IO in making investment decisions, but you should consider this information in the context of all information available to you.