Nearly 18 months ago, Microsoft (MSFT) announced the acquisition of professional media platform LinkedIn. I was among the highly skeptical who believed that the acquiree was a solid and promising company, but whose prospects and earnings potential did not justify a price tag of 650x forward earnings multiple.
With the Redmond-based company firing on all cylinders and boasting about the performance of its faster-growing venture, I ask myself: is the LinkedIn acquisition paying off?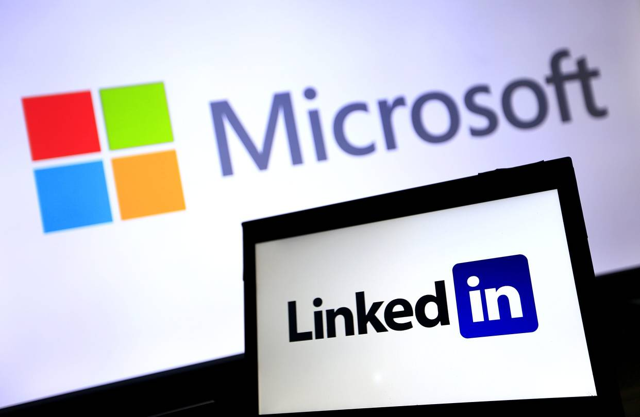 Credit: WSJ
To get the discussion started, I would note that, from an operational perspective, LinkedIn has done well over the past year. As CEO Satya Nadella stated, during Microsoft's most recent earnings call:
LinkedIn is on target to surpass 21 billion sessions this calendar year and has seen its fourth consecutive quarter of 20%-plus sessions growth. Engagement across the platform is strong, with 65% year-over-year growth in jobs, visitors across mobile and desktop, 60% growth in feed update views and nearly 40% growth in messages sent, driven by more ubiquitous messaging.
Big numbers indeed. But I also would remind the reader that the financial impact of LinkedIn's performance has been in line with, and in certain aspects even short of, the expectations that I held last year. Here are some of the assumptions that I had made about the professional online platform back in June 2016:
Projected revenue growth of 19% and 15% in 2016 and 2017, respectively: on the top line, LinkedIn's performance has not lived up to my expectations, even if management claimed recently that it has been exceeding theirs.. I projected $3.55 billion in revenues since LinkedIn became part of Microsoft, but saw only $3.42 billion delivered. My expectations had been set in line with LinkedIn's management team's projections back then. While low-to-mid teen growth might seem good enough for a company the size of Microsoft, whose total company top-line increase is expected to come in no higher than 8% next fiscal year, I believe it is short of impressive for a smaller, still unprofitable business like LinkedIn.
Gradual gross margin expansion from 86% in 2015 to 87% in 2018: Microsoft has been lagging my expectations the most on this line item. As the platform continues to gain scale, I imagined that LinkedIn could at least maintain gross margins stable. But since becoming part of Microsoft, the business' profitability has in fact contracted by a few percentage points. Glass half full observers might argue that investing in growth should naturally create a bit of gross margin headwind that is acceptable if one is to hold a long-term view on the subject.
A drop in opex as a percentage of revenues to 85.9% in 2018 from 87.4% in 2016: This is where Microsoft seems to be producing the most value out of the deal. At this point, I expected non-GAAP opex (i.e. ex-amortization) to still represent about 87% of total sales. But the rate has been much lower since the acquisition, at about 82%. I still find this number fairly rich, considering that LinkedIn as a stand-alone company was able to keep it below 80% in calendar 2015 and just north of 70% in 2011. With further synergies likely in the horizon, however, I would not be surprised to see the opex ratio decrease gradually over the next several quarters.
All taken into account, LinkedIn's $20 million in adjusted (ex-amortization) op profits produced since the acquisition, for an op margin of only 0.6%, has fallen very close to my projected -$20 million. Being EPS accretive in fiscal 2018 sounds good, but is no better than what I believe most already expected this time last year.
See table below highlighting the financial performance of LinkedIn over the trailing 12 months and the comparison against my June 2016 estimates. My estimates are adjusted for a partial calendar 4Q16, considering the deal did not close until December 8th.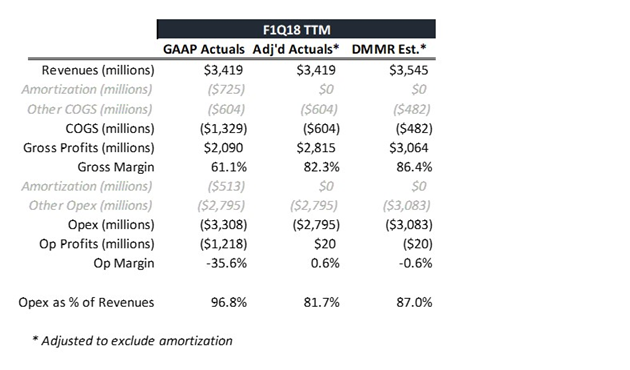 Source: DM Martins Research, using data from company reports and estimates
Is the LinkedIn deal paying off?
Just about a year and a half after the announcement of the acquisition, I continue to hold a similar view on the LinkedIn purchase. While I believe the acquisition makes strategic sense, considering the opportunities that the acquiree brings to the table in terms of integrating different Microsoft products and services into more coherent productivity and business solutions, I think the economics of the deal still fall short of impressive.
Microsoft's management team continues to use attention-grabbing headlines to communicate the successes achieved with LinkedIn over the past year (e.g. "more than 530 million members," "record levels of engagement," "ahead of plan with contributing positively to EPS ex-purchase accounting in fiscal 2018"). Some of the metrics shared don't even account for the future potential that the LinkedIn acquisition can bring about in terms of improved competitiveness in areas like CRM. And having LinkedIn founder Reid Hoffman on the board of directors and closer to the management team has been quoted as crucial in establishing Microsoft's credentials with Silicon Valley once again.
But the reader must remember the price that Microsoft and its shareholders have paid to capitalize on these benefits: a whopping $26.2 billion financed through debt. If used to repurchase stock at the June 2016 price of $50 apiece, for example, the amount would have been enough to retire over half a million shares and instantly generate over $0.20 in annual EPS accretion. Or, although I wouldn't dare be too specific on my speculation, how could these $26.2 billion have been used to improve even further Microsoft's position as a leader in the cloud infrastructure business?
Without resorting to arguments that are founded on the qualitative aspects of Microsoft's largest M&A deal ever, I find it hard to justify the acquisition of the Sunnyvale company - even following what some consider to have been a strong year for LinkedIn.
Note from the author: If you have enjoyed this article and would like to receive real-time alerts on future ones, please follow D.M. Martins Research. To do so, scroll up to the top of this screen and click on the orange "Follow" button next to the header, making sure that the "Get email alerts" box remains checked. Thanks for reading.
Disclosure: I/we have no positions in any stocks mentioned, and no plans to initiate any positions within the next 72 hours.
I wrote this article myself, and it expresses my own opinions. I am not receiving compensation for it (other than from Seeking Alpha). I have no business relationship with any company whose stock is mentioned in this article.