It continues to astound me that, a month after Switch's (NASDAQ: SWCH) IPO at $17, the stock continues to hold its head high despite what seems like gross overvaluation to most investors. Switch, which operates large-scale data center facilities offering "co-location" services - basically renting out server rack space like any common real estate company - possesses no technological differentiation nor the growth profile that merits it the tech-style valuation that it's trading at.
Earnings were, at least relative to Wall Street estimates, a solid beat. Revenue of $97.7 million (+20% y/y) beat analyst consensus of $95.7 million - never mind the fact that 20% growth is hardly impressive enough to merit the company's double-digit revenue multiple. EPS of $0.08 beat consensus of $0.07. Guidance was in-line. No major red flags in the results.
Still, the stock sank 6% in aftermarket trading. So what happened? At Switch's humongous valuation, investors are expecting mind-blowing beats - not just a couple points ahead of consensus. The post-earnings sell-off in Switch's stock suggests that the cracks are beginning to show. This is not an exciting, high-growth, expectations-busting technology company - it's more or less a boring owner/operator of server facilities that provides a commoditized service.
Switch shot up 25% on its IPO day to close at $21.70, representing a market cap of ~$4.5 billion. At the time, this represented an EV/FTM revenues multiple of approximately 14x and a trailing P/E of approximately 127x, as I wrote in a prior article. Switch's post-earnings decline to the mid-$19 range hasn't even come close to bringing the stock back down to earth where it belongs.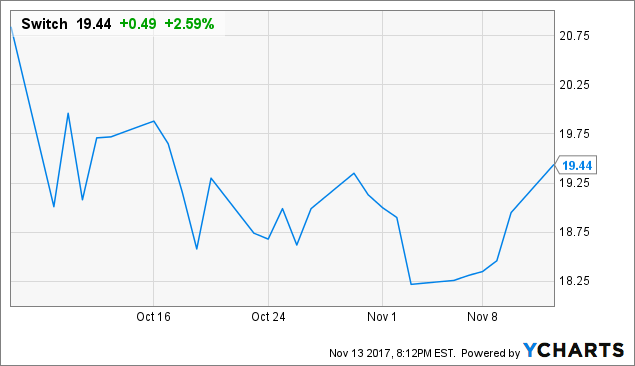 SWCH data by YCharts
Switch remains one of the most outrageously valued new issuances in 2017. The company has very little going for it - neither a strong growth narrative nor a strong financial profile, absent its thin amount of profits that distinguish it from money-losing tech startups. Unlike those startups, however, Switch's business runs on thin gross margins due to its commoditized nature and hardware reliance, so it can't greatly expand its profit margins much further from where it is now.
The company's debt profile is also no joke. Switch's Q3 balance sheet showed $847 million of debt and capital leases (and just a razor-thin $8 million of cash), representing a 4.4x Debt/EBITDA multiple based on Switch's new FY17 adjusted EBITDA guidance of $190-$195 million. By any measure, that makes Switch a fairly high-levered company.
If it wasn't abundantly clear before that Switch is a euphoria-ridden stock that has no fundamental support, it's fairly clear now. Given the stock's initial earnings reaction, market support for Switch should begin to crumble gradually from here on out. There are few names I would dare to short, especially in tech IPOs - but with Switch, already perched high above the mountain, it seems down is the only way it can go.
Q3: modest growth, but interest eats into net margin
In Q3, Switch reported $97.7 million of revenue (+20% y/y), outpacing analyst consensus of $95.7 million (+17% y/y). I'll say it again: for a company to be trading at a double-digit revenue multiple, it had better be able to beat expectations by more than a mere three points. Judging by the aftermarket sell-off, Wall Street and investors have starkly different expectations for the company - the equity analysts are penciling in tame numbers for Switch's growth, but the big investors are wanting much, much more.
Figure 1. Switch Q3 results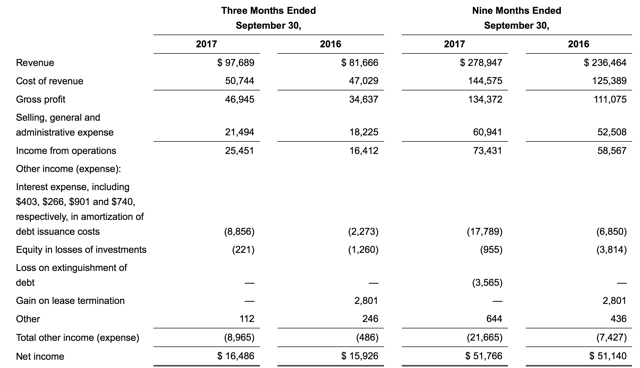 Source: Switch earnings press release
Unlike a technology company, Switch suffers from low gross margins. What can you expect? It rents cabinet space for other companies to put their servers on - it's not a fancy business, it's capital-intensive, and it faces competition from thousands of similar providers. As a reminder, co-location services like Switch are different from cloud hosting providers (such as Amazon AWS (NASDAQ: AMZN) and Microsoft Azure (NASDAQ: MSFT)) as cloud providers are more of a full-service operation that rents out the actual servers and maintenance staff to upkeep them. Co-location providers like Switch simply provide rack space for you to put your own servers on - and your own IT staff needs to manage it.
Gross margins more or less stayed flat in Q3 - 43% versus 42% in the prior year period.
It's the interest that's killing Switch's profitability. GAAP net earnings of $16.5 million on revenue of $97.7 million represents a 16.9% net margin, versus 19.5% in 3Q16. Profit margin contraction of 2.6% - especially for a tech company that's trying to sell its profitability angle - is not a friendly sight to see.
EPS of $0.08 barely beat analyst consensus of $0.07 - again, good enough for Wall Street, but not good enough for investors.
It's interest that's the main driver behind the net margin contraction - interest expense ballooned to $8.9 million in Q3, versus only $2.3 million in the prior Q3. Switch now bears a debt load of $824 million - up from $472 million in the prior Q3. The capital structure is another major worry factor hanging over the stock, and we'll turn to that next.
Too much debt for such a low-growth, capital-intensive business
The below table, taken from Switch's earnings press release, shows how the company bridges from net income to adjusted EBITDA.
Figure 2. Adjusted EBITDA bridge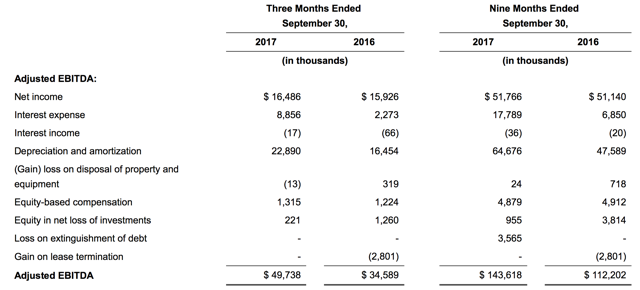 For the full year, Switch guided to $190-$195 million of adjusted EBITDA. Taking the midpoint of this guidance ($192.5 million) and adding Switch's long-term debt of $824 million to $23 million in capital leases (as capital leases also represent payment obligations on par with debt), we get $847 million of debt and a 4.4x Debt/Adj. EBITDA ratio.
In general, what banks and lenders accept as a "passing" leverage ratio is around 3x. A leverage ratio of 4.4x reaches into the "too much debt" territory.. Yes, the company is growing revenue at 20%, and Adj. EBITDA is growing at 44% - but it's not strong enough growth to justify that amount of leverage..
Also recall that Switch is a capital-intensive business - it's currently investing heavily in capex to build out its fourth major data center campus (which it calls "Primes") in Atlanta, Georgia. Capex is vital to Switch's growth - unlike the majority of tech software and internet companies, who drive growth via opex spending (via sales and marketing). Without investing capex dollars into building out its facilities, it can't increase its server rack space to increase its rents.
Capex is excluded from EBITDA calculations, despite eating into Switch's debt-repayment capacity - so in effect, Adj. EBITDA overstates Switch's true cash flow.
Capex spend totaled $64.1 million in Q3. Subtracting this from Q3 Adj. EBITDA of $49.7 million yields -$14.4 million. Capex for the full year is forecast at $345-$365 million; subtracting the midpoint of this figure from the midpoint of Adj. EBITDA guidance of $192.5 million yields an astounding -$162.5 million.
This is a business that has no cash flow left over to repay debt, not if it wants to continue growing. Switch's interest burden has, as we've seen, already eaten heavily into its earnings margin; without a bona fide ability to reduce its debt, Switch's profits will be perpetually depressed.
60-second summary: valuation outrageous
Whatever illusion was supporting Switch's stock price seems to have begun unraveling following the company's Q3 earnings release. Still, a 6% aftermarket decline isn't nearly enough to bring the company's valuation down to a reasonable level.
As borrowed from a fellow SA contributor's incisive analysis on Switch's ownership structure, the 31.25 million Class A shares trading on the market represent a 12.6% cut of the whole equity pool. Thus, at Switch's post-market close of $19.44, it carries a market valuation of $4.82 billion and an enterprise value of $5.06 billion, after netting out $8.0 million of balance sheet cash and $577.3 million of estimated IPO proceeds that have not yet hit the balance sheet, and adding $824.0 million of debt and capital lease obligations.
Based on Switch's updated guidance of $372-$380 million of FY17 revenues (which, by the way, was only in-line with analyst consensus of $375 million) and adjusted EBITDA of $190-$195 million, the stock is trading at:
13.5x EV/FY17 Revenue
26.3x EV/FY17 Adj. EBITDA
For a company at a pitiful 20% growth rate, burdened with nearly $1 billion in debt and hefty interest payments, and an unexciting, highly commoditized business? No thank you.
Disclosure: I/we have no positions in any stocks mentioned, and no plans to initiate any positions within the next 72 hours.
I wrote this article myself, and it expresses my own opinions.. I am not receiving compensation for it (other than from Seeking Alpha). I have no business relationship with any company whose stock is mentioned in this article.