Investment Thesis
Shares of Microsoft (MSFT) have performed very well in the past month following the release of its first quarter fiscal 2018 earnings. The company not only continues to benefit from strong growth in its cloud business, its gross and operating margins has also improved considerably in the past few years. However, its current P/E and EV/EBITDA ratios are currently significantly higher than its 5-year averages. Given the growth prospect of its cloud business, I believe Microsoft is still a buy, but I would prefer to wait for a pullback.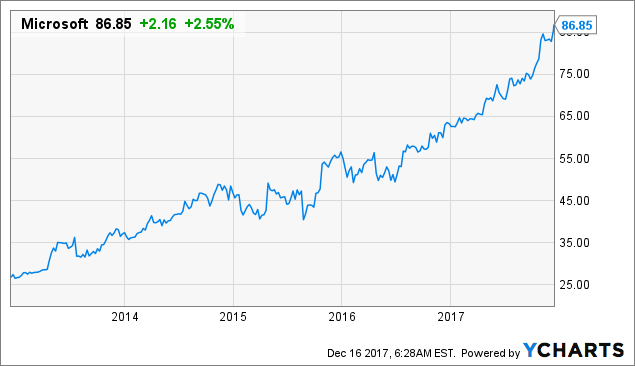 Double Digit Growth in its First Quarter Fiscal 2018
Let me first begin by summarizing quickly Microsoft's quarterly result. In Microsoft's first quarter fiscal 2018, the company continues to perform very well in its top and bottom lines. Its revenue grew by 12% to $24.5 billion. Its diluted EPS grew by 17% to $0.84 per share.
In the rest of this section, I like to highlight a few items that I think will be helpful for readers to know.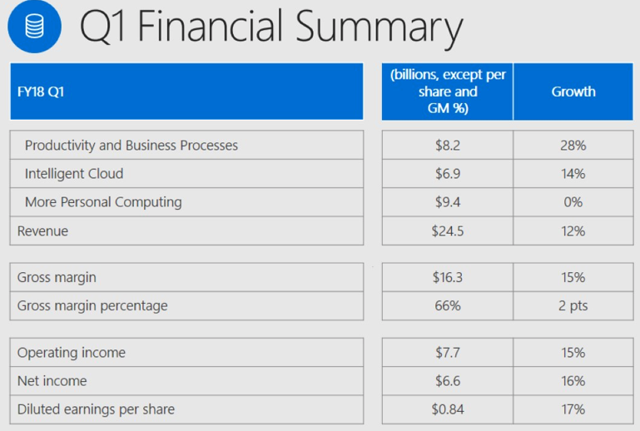 Source: Company Presentation
Growth in its Cloud Services Continues to be Impressive
One bright spot I like in Microsoft's first quarter earnings was the growth acceleration of its cloud services revenue plus its gross margin expansion. In the past quarter, its Intelligent Cloud Segment grew by 14% year-over-year to $6.9 billion. This was better than the growth rate of 11% a quarter earlier. In addition, Microsoft's commercial cloud revenue (which includes Azure, Office 365, and Dynamics 365) grew significantly by 56% year-over-year to about $5 billion. Most notable growth in the commercial cloud revenue was its Azure cloud platform, which grew by 90%. Microsoft now has about 14% of the public cloud computing market. It still trails behind Amazon's (AMZN) 32% (click here), but well ahead of Google (GOOGL, GOOG).
We all know that strong revenue growth does not mean much if the company is not able to maintain or increase its gross margin. Fortunately, it was not the case for Microsoft. The company did not sacrifice profit for market share. As can be seen in the table below, its commercial cloud gross margin improved to 57%, an increase of 500 basis points quarter-over-quarter and 800 basis points year-over-year. As an investor, I am really pleased to see that Microsoft was able to increase both its cloud revenue and its margin in the past quarter. This indicates to me that Microsoft has a competitive edge against its competitors.

Source: Created by author, Company Presentation
Operating Margin Continues to Improve
Besides gross margin expansion in its commercial cloud business, Microsoft's overall operating margin also improved quite a bit. Its operating margin in the first quarter of 31.41% was 586 basis points higher year over year. The improvement was partially due to better product mix in particularly from its cloud business as mentioned in the previous subsection. In addition, its SG&A expense as a percentage of total revenue of 20.29% was 420 basis points lower than a quarter ago. The number was above 30% back in 2009. Microsoft as a company is better managed now than several years ago.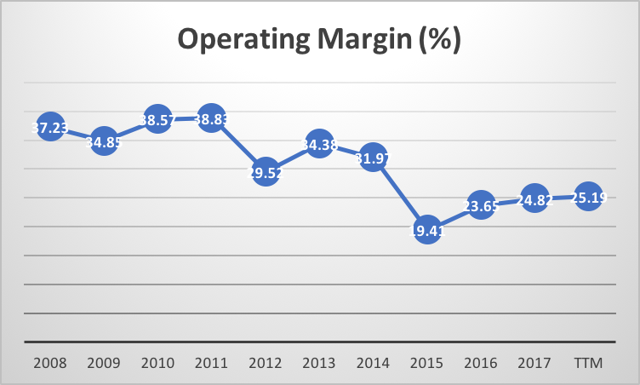 Source: Created by author, Company Reports
No Growth in its PC Segment
While I like Microsoft's several positive trends mentioned, I am concerned about Microsoft's PC business. In the past quarter, its PC segment declined a little bit versus a year ago. The reason I am concerned is that its PC business still makes up 38.4% in the past quarter. It is a critical piece of Microsoft's Windows ecosystem. While the company's Surface devices continues to sell well, the overall PC shipment continues to decline. Fortunately, the strong growth in its cloud and Office revenues are able to offset the decline in its PC revenue so far.
Outlook
Looking forward to 2018, Microsoft's cloud business should continue to grow at a fast rate due to strong demand for cloud services. In fact, according to the research firm Gartner Inc. (NYSE:IT), the public cloud market is expected to continue to grow at a compound annual growth rate of 19% through 2020 (click here).
In terms of Microsoft's acquisition of LinkedIn last year, I think there is a lot that Microsoft can do to help grow its revenue as LinkedIn holds a vast collection of valuable data of about 500 million professionals. The company can integrate with its existing business office and cloud products.
In its Personal Computing Segment, we may continue to see 0% or negative growth as PC shipments will likely continue to decline. Its Surface devices should help stabilize the segment's revenue in 2018 (Surface business grew by 12% year-over-year in Microsoft's first quarter).
Overall, I like Microsoft's revenue mix as a significant portion of its revenue is now subscription based. This Software-as-a-Service ("SaaS") approach makes its revenue base much more stable and predictable than a one-time sale of its software. SaaS should continue to bring excessive long-term return on capital for the company.
Dividend and Stock Repurchases
Microsoft currently pays a quarterly dividend of $0.42 per share, or about 1.93% dividend yield at today's share price. The company raised its dividend earlier this year by $0.03 per share from $0.39. The increase was the second straight year the company raised its dividend by $0.03. I am disappointed about this 7.7% dividend increase as the company's free cash flow in fiscal 2017 grew by 25.6%. The company should have more room to increase its dividend. Perhaps, Microsoft do plan to reserve the cash for other purposes that I am not aware of. While I would prefer a double-digit increase, its latest increase of 7.7% is still decent comparing to other blue-chip stocks. In the past quarter, Microsoft also bought back about $2.6 billion of its stocks. In total, the company repurchased about $11.8 billion in its fiscal 2017.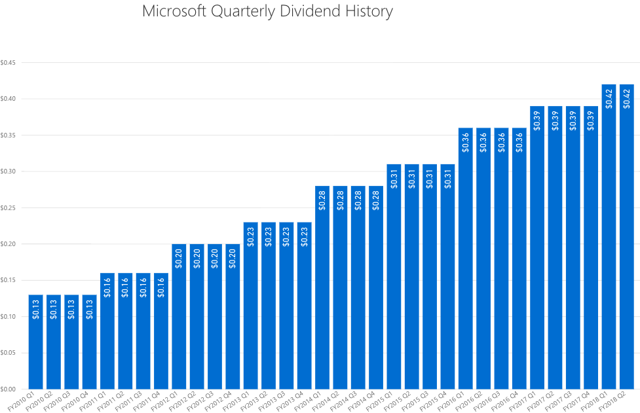 Source: Company Website
Valuation
Microsoft's current P/E ratio of 29.9x is significantly higher than its 5-year average as shown in the table below. Similarly, its current Enterprise Value ("EV") to EBITDA ratio of 16.4x is also much higher than its 5-year average range of 10.3x to 12.5x. I am willing to accept higher P/E and EV/EBITDA ratios than Microsoft's 5-year average as Microsoft has transformed its business significantly. Its revenue breakdown is now very different than 5 years ago with more recurring revenues. However, I am not sure if Microsoft deserve its current ratios especially when its shares have appreciated by 38% in the past year. Nevertheless, I think Microsoft's revenue will continue to benefit from growth in its cloud business and office subscriptions in the next few years.
Current

Forward

5-Year

P/E Ratio

29.9x

25.6x

23.7x

EV/EBITDA Ratio

16.4x

14.0x

10.3x ~ 12.5x
Source: Created by author
Investor Takeaway
I like Microsoft's business model and I think the company should have strong growth in the next few years. Its dividend is also solid with a long-term growth prospect. However, its current valuation is not cheap. I would wait for a pullback because I desire a higher margin of safety. The downside of my approach is that its shares might never pullback. For those who have a long-term investment horizon, Microsoft is a good investment choice as it offers opportunities for both long-term capital appreciation and dividend growth.
Note: This is not financial advice and that all financial investments carry risks. Investors are expected to seek financial advice from professionals before making any investment.
Thank you for reading. If you like my article, please scroll to the top of the article and click on "follow" to receive future updates.
Disclosure: I/we have no positions in any stocks mentioned, and no plans to initiate any positions within the next 72 hours.
I wrote this article myself, and it expresses my own opinions. I am not receiving compensation for it (other than from Seeking Alpha). I have no business relationship with any company whose stock is mentioned in this article.